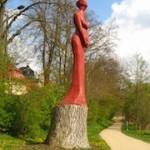 This is somewhat of a scoop. Perhaps this is the first time you will have read about this (in English anyway) and seen pictures of it. You've seen it first in Easy Hiker!
The Women of the Lake in Schwerin 
This was another pleasant discovery we made during our hike around Schwerin, along the last lake we passed by, Ostorfer Ufer, before heading back to our hotel.
The story goes that three trees had to
Continue reading The Women Of The Lake