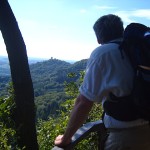 Hiking in Germany Hiking the Siebengebirge or Seven Mountains Range The Siebengebirge, the "Seven Mountains Range", is said to have been the place where Siegfried – the hero of the Nibelungenlied and Wagner's Ring cycle – learned the Art of Warcraft from the treacherous Mime and where he eventually slayed the dragon.
It is also rumoured to be the "land of the 7 mountains" where according to an ancient folk myth 7 miners of small stature once gave shelter to a pale young woman who was, at the time, on the run from a hired assassin.
Sadly, however, we could find no evidence for the veracity of this tale.
Niederdollendorf train station is where we began our hike, essentially a shortened version of the Rheinsteig hiking trail stage 2. Trains from Cologne to Niederdollendorf leave at least once every hour and take a little more than
Continue reading Hiking The Siebengebirge