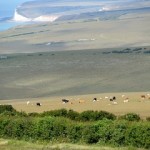 Hiking trails do not go through forests all the time. As a visual respite, we welcome scenic fields  from time to time, too. And during all our hikes, we have certainly seen quite a few dramatic field landscapes.
Our Hiking Fields of Dreams
This is the field in Auvers sur Oise that has inspired van Gogh's  painting Champ de Blé aux Corbeaux. Well, the wheat evidently went AWOL as did the crows on the day we passed by.
Continue reading Fields of Dreams