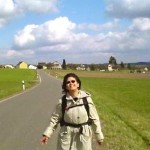 Let's have a hiking photo blog, said Mrs Easy Hiker.
It was only when I had such a hard time finding anything halfway decent in our archive of our easy hiking in Germany that I realized how poor the photographs are that we actually have or, put differently, how few of them are actually good enough to be posted at all.
But these 10 pictures tell our hiking story
This, for example, is our version of the Twelve Apostles, the most famous landmark of the Altmühltal-Panoramaweg in Lower Bavaria. Groovy, eh?
Don't you wish you had laid off those magic mushrooms!
For years, using our mobile phone cameras by and large, we have snapped away thoughtlessly and incompetently at little details that seemed to be telling and amusing at the time but whose significance has largely
Continue reading 10 Pictures That Tell Our Hiking Story