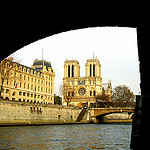 Walking in Paris – Part 1 Parisian Parks to Choose From Keep it short, keep it urban: that was the general advice I gave you a few posts ago for walks and hikes during the cold season. Walking in Parisian parks would do the trick!
For many people, of course, that is the motto for any kind of outdoor activity throughout the year. Not everybody feels equally tempted by the prospect of a day on a hiking trail, not even when it's warm outside and the sun is shining, particularly when they are away on a holiday.
And frankly, sometimes even I can't blame them. If I had friends over for a weekend in London, and let's just say for the sake of the argument that they had never been there before: would I really insist on schlepping them out to the Epping Forest?
Walking in Parisian Parks