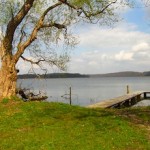 Hiking in Germany  The City of Seven Lakes in Germany
Mountains provide the underlying theme of most hiking trails: England has the South Downs, France the Massif Central and Germany the gently rolling landscapes of its various Mittelgebirges.
Now don't get me wrong. I have always enjoyed my hikes through this type of landcape, otherwise I would not have done so many of them.
But it is also true that, after a while, you are beginning to ask yourself:
Continue reading The City of Seven Lakes