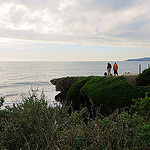 French Riviera Walks From Monaco to a celebrated coastal spot The stroll from Monaco to the near-by Mala Beach in Cap d'Ail is the classic family beach walk on the Riviera.
It may not be as rugged and spectacular as some of the others trails in the area – there is no jumping from rock to rock here: the beach path is asphalted throughout. But what it lacks in drama, it makes up through its easy access and tranquility.
In fact, the Mala Walk is the perfect promenade for groups that feature small children and old folks: we even came across some couples with prams. With a length of roughly 5 km, it is also not particularly taxing. And since the walk starts in Monaco, it can be easily integrated into a "great day out".
So while in the morning, it's
Continue reading Part 2 in Monaco – French Riviera Winter Walks