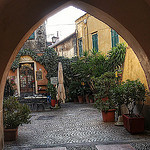 If you blink at the wrong moment on your Riviera train journey, you may miss it, but that would be a loss and a pity We first discovered Cervo about a year ago when our train journey to some other place down the Italian Riviera had been interrupted, falling rocks having damaged the tracks, and a bus replacement service was taking us on to the road.
I am only mentioning this because from the train, you can easily fail to spot Cervo altogether: most trains do not stop there, and the tracks are perhaps running too close by the Old Town for you to get a good impression.
From the road, conversely, you have a splendid view of Cervo and will understand why it is considered one of the most attractive small towns in this part of northern Italy between the French border and Genoa.
Continue reading The Baroque Splendour and Splendid Views of Cervo