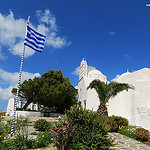 Got an afternoon to kill and don't feel like going to the beach? Then here are a few ideas of how to pass your time 1. Agios Panthes
This is not an easy hike at all – as we found out, just in time.
In Paros, most attractive hiking trails start in Lefkes, the island's highest and most centrally located village. The road to Agios Panthes, the island's highest mountain, takes off near the parking lot on top of the town.
Somebody had told us – or at least that's what we understood – that the distance from Lefkes to the peak was about 5 km. After about 3 km, it began to dawn on us that this was not true and that the highest peak, as much as we could see, was a lot further away, so we returned to the car and
Continue reading Three More Easy Walks on Paros