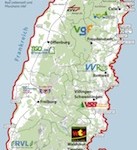 Hiking in Germany What is KONUS?
Holidays are expensive things. For most families, they are easily the biggest item in their annual budget behind life's essentials such as food, shelter and transport (such as the family car).
Travel and accommodation make up the largest chunk of holiday expenses, but by the time the holiday starts, they have already been accounted for, if not necessarily fully paid, and have lost their power to annoy.
"Extras", on the other hand, have
Continue reading KONUS Makes Your Family Holiday In The Black Forest Lighter On The Pocket