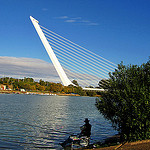 Urban Walking in Seville
For walking Seville, we chose a route on the banks of the Guadalquivir river, from the town centre to the iconic Alamillo Bridge and across into neighbouring Alamillo Park.
The walk starts at San Telmo Bridge, near San Telmo Palace in the heart of the Old Town. Walk down to the Guadalquivir and stay on the "town side" of the river throughout.
On the first stretch of the walk, you will pass
Continue reading Walking Seville